Daniel Kresina
Executive Vice President, IT & Operations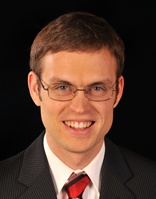 Daniel's technical expertise and aptitude for data management and process improvement helps drive innovation and progress throughout TABS Analytics. He holds two Microsoft Certified IT Professional (MCITP) certifications in Database Development and Administration for Microsoft SQL Server 2008. In addition, he also has earned several other hardware and software certifications from Microsoft and Comptia.
Daniel's current role as Vice President of New Product Development and IT involves him in database design and administration, custom dashboard and data visualization development and process automation. He is the primary developer of the TABS PromoMaster® software, and the Project Director on TABS RetailWorks™.
Before joining TABS Analytics Daniel gained experience in all aspects of computer setup and support while working for a niche computer service firm. Though he enjoyed computer systems, he realized that data analytics was his real passion and joined TABS Analytics in 2009. He holds a Master's of Science degree in Business Intelligence from St. Joseph's University, and a BS in Business Administration from Thomas Edison State College.
Daniel lives in Maine with his wife and family, where he enjoys many opportunities for outdoor fun such as hiking, skiing, and biking. He is also very involved at his church and several other charitable organizations.