Katelyn Cieslinski
Consultant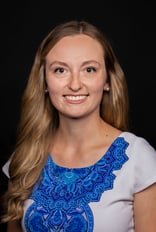 Kate joined TABS Analytics in 2022, transitioning from a marketing production role with our sister company, Blacksmith Applications. As a consultant at TABS, Kate uses her past marketing and brand management experience to provide in-depth brand and product performance analysis to help clients guide business decisions.
Before joining TABS, Kate spent 5 years working in brand marketing roles with The JM Smucker Company and at PPG Industries. Her time as an analyst allowed her to develop expertise in translating data into actionable insights to drive annual brand planning. Regular job duties included monthly performance reporting, innovation post-launch reviews, and new product sell-in support. As she continued to advance, Kate took on brand strategy work like regional situation appraisals and new product development. More recently at Blacksmith Applications, Kate continued to work together with sales teams to provide sell-in support for software and technology solutions which required content development, project management, and presentation creation.
Kate graduated from The University of Akron in 2015, earning her Bachelor of Business Administration in Marketing Management and Integrated Marketing Communications. Outside of work, she enjoys baking, camping, hiking, and spending time with her husband, dog, and cat.