Kuntal Chakraborty
Director, Data Science and Analytics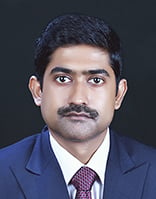 Kuntal joined TABS Analytics in September, 2019 with 12 years of data science and analytics experience in CPG, social network analysis and natural language processing domains. He has previously worked at Cognizant, Honeywell and a few startups. He has developed a complete, end-to-end revenue management solution which includes price elasticity and baseline computation for a Fortune 100 retail customer while working at Cognizant. He has developed recommendation engines for a social media network startup. He also developed an AI and natural language processing-based news classification solution.
Kuntal holds two Masters degrees, one in Mathematics from Calcutta University in India and another in Computer Science from Indian Statistical Institute. He has co-authored two research papers and one U.S. patent.
Kuntal lives in Kolkata with his wife, two kids and family, where he enjoys travelling, attending music concerts and teaching.
.