Leah Good
Associate, Consulting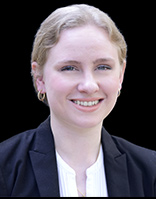 Leah joined TABS Analytics in 2021, bringing enthusiasm for making complicated information accessible and helping people reach goals as efficiently as possible. As an associate consultant at TABS, Leah uses her organization skills and background in data management to shape data into a usable format for clients.

Prior to this role, she supported the Research and Development team at Henkel as a Data Management Specialist. While in this Role, Leah helped internal teams streamline their processes, communication, and databases to bring products to market in a timely manner. Before Henkel, Leah performed a variety of sales and marketing roles for Elim Park Independent Senior Living Community and Lumerit Education.

Leah graduated from Thomas Edison State University in 2013, earning a BSBA in Business Management with an emphasis in marketing. Outside of work, Leah enjoys hiking, writing fiction, flipping secondhand fashion online, spending time with family, and participating in her local church.