A Theory Of Retailer Price Promotion Using Economic Foundations: It's All Incremental
This dissertation offers a theory of retailer price promotions*. The theory is based on a desire to understand theoretically the tens of thousands of in-market observations that I have seen empirically over 20 years in the Consumer Packaged Goods Industry.
Specifically, the theory states that incremental retail sales generated by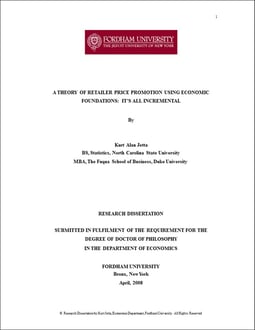 reduced price promotions from retailers exhibits a Complete Category Expansion Effect (CCEE). That is, sales are entirely incremental to the retailer and the promoting manufacturer: there is no post-period reduction in sales ("dip") either in the short or long-term, nor is there a reduction in sales from competing brands, nor is there a reduction of sales for the promoted item in competing retailers.
* Retailer Price Promotion is defined as a temporary price reduction at a retailer for fixed amount of time. It is accompanied by some form of communication about the reduced price, usually through Feature Advertising, In-Store Signage. In this paper "Promotion," "Price Promotion," and "Retail Price Promotion" will be used synonymously, unless otherwise noted.
Download now for this free dissertation!