Insights Gained from Our 2022 Annual Food & Beverage Study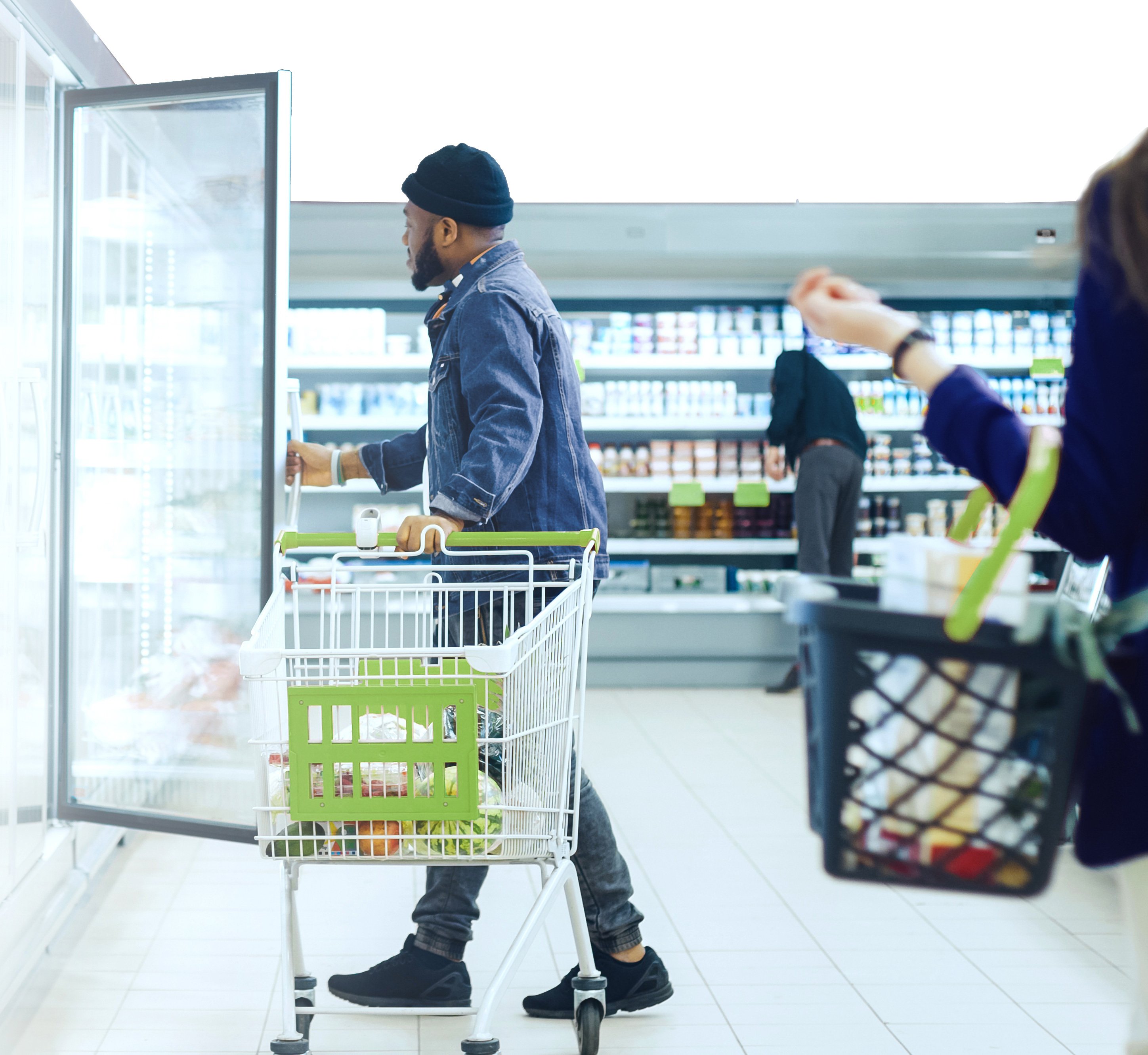 This year marks our 10th Annual Food and Beverage Study. In the study, we research the latest consumer shopping trends in the food and beverage industry.
Jordan Henderson, Vice President of Client Solutions, Decision Insight, and Bill Nolan, Vice President of Consulting, TABS Analytics (both companies are part of Telus Consumer Goods) studied specific changes in consumer behaviors since the beginning of the pandemic, the height of the pandemic, and post-pandemic.
They focused specifically on:
What shoppers are buying and how frequently they are buying.
How shoppers are saving money.
Where shoppers are buying.
The evolution of online purchasing.
Our research methodology included:
An online survey using Decision Insight's DecisionVelocity™ custom digital platform.
A survey pool of approximately 1,000 U.S. Gen Pop consumers with a mix of gender, age, income, ethnicity, and region.
The survey was fielded between July 13-21, 2022.
Read on to learn about our research!
What are shoppers buying, and how frequently are they buying?
Our study looks at 18 key categories accounting for more than 20 percent of consumer packaged goods (CPG) retail dollars.
We found that purchasing for most categories has come back down to 2020 levels, with the biggest drops for Salty Snacks, Ready-to-Eat Cereals, Cookies, and Crackers (see chart below).
The categories with the largest declines include goods highly consumed at home. We believe the decline is due to less at-home consumption rather than inflation because most categories are returning to their 2020 level rather than declining further.
One-third of all the shoppers we surveyed are Heavy Buyers, meaning they frequently shop in most categories. Heavy Buyers shop for Salty Snacks and Cookies more regularly than shoppers in general. So even though the trends in these categories are down, they are still important to Heavy Buyers as they appeal to this variety-seeking group.
Heavy Buyers are twice as likely to be households with kids. Households with kids more frequently shop for Bottled Water, Frozen Ice Cream Novelties, and Sports Drinks. This trend aligns with more people going outside the house, enjoying activities again, and needing drinks and snacks on the go.
Low-calorie, diet, low-fat, and organic item purchases have returned to 2020 levels. This year, we added "plant-based drinks and snacks" as an attribute and found that one in ten shoppers are buying these items.
What are shoppers doing to save money?
We asked shoppers about 10 key deal tactics they regularly use, which you can see in the chart below.
We found that one in ten shoppers uses deal tactics heavily, with most shoppers using at least three deal tactics regularly. Of all shoppers, only 7 percent don't use any deal tactics.
Shoppers continue to go to stores with Everyday Low Prices as the number one deal tactic. This has been true for all 10 years we've done this survey! Couponing continues to decrease in usage.
We saw a large increase in shoppers reporting they bought store brand or private label products. It's possible that this comes from the value proposition and increased quality of private label products. Consumption data confirms that private label products are performing well in food and other categories in the grocery store.
Where are shoppers going to buy products?
Like many things these days, grocery shopping is taking place more often online, meaning fewer shoppers are heading to the traditional grocery store to shop.
In our first survey in 2013, only 1 percent of shoppers reported buying groceries online. And back then, the big players were companies like Fresh Direct and Peapod, instead of the top players today: Amazon and Walmart.
While click-and-collect and online delivery keep growing year over year, online delivery is the preferred method for online grocery shopping. Based on our findings, online grocery is here to stay, meaning we're spending more time analyzing trends with an omnichannel focus. We're also receiving more research questions from CPGs about their online business.
How has online shopping evolved?
Not surprisingly, the number of shoppers buying groceries online has increased significantly in the past three years.
Walmart and Amazon are the most popular places to shop for groceries online, both growing year over year. Although Amazon was lackluster with shoppers in 2021, Amazon grocery has grown in 2022 through expanding markets, delivery options, and prime member benefits.
Club stores, such as Sam's Club and Costco, have also seen growth in online grocery shopping year over year.
What items are being bought online?
Not surprisingly, refrigerated items are bought online less often than shelf-stable foods. Candy, Popcorn, and Meat Snacks are all popular with online shoppers.
Shoppers prefer in-store shopping to get the best deals and find most of their snacks. It's also when they tend to impulse buy. This is not surprising, thanks to all the displays and at-register opportunities.
Shoppers are online for convenience, budgeting, and speed of shopping. However, merchandising and assortment are just as important online as they are in-store, meaning manufacturers and retailers need to work together to optimize and increase basket size.
2022 Annual Food & Beverage Study Conclusions
We hope this information is useful as you look ahead to future initiatives. Ultimately, our research tells us that:
Purchasing has come back down to 2020 levels.
Households with kids remain the heaviest buying demographic, particularly for Bottled Water, Frozen Ice Cream Novelties, and Sports Drinks.
Everyday Low Price continued to be the most popular deal tactic, and store brands have seen an increase in purchase frequency.
Online grocery continues to grow.
Value grocery (Aldi) remains strong.
Walmart continues to grow online, but Amazon is making gains.
Are you interested in learning more about our research? Watch the entire webinar that dives deeper into the trends found in this blog post!